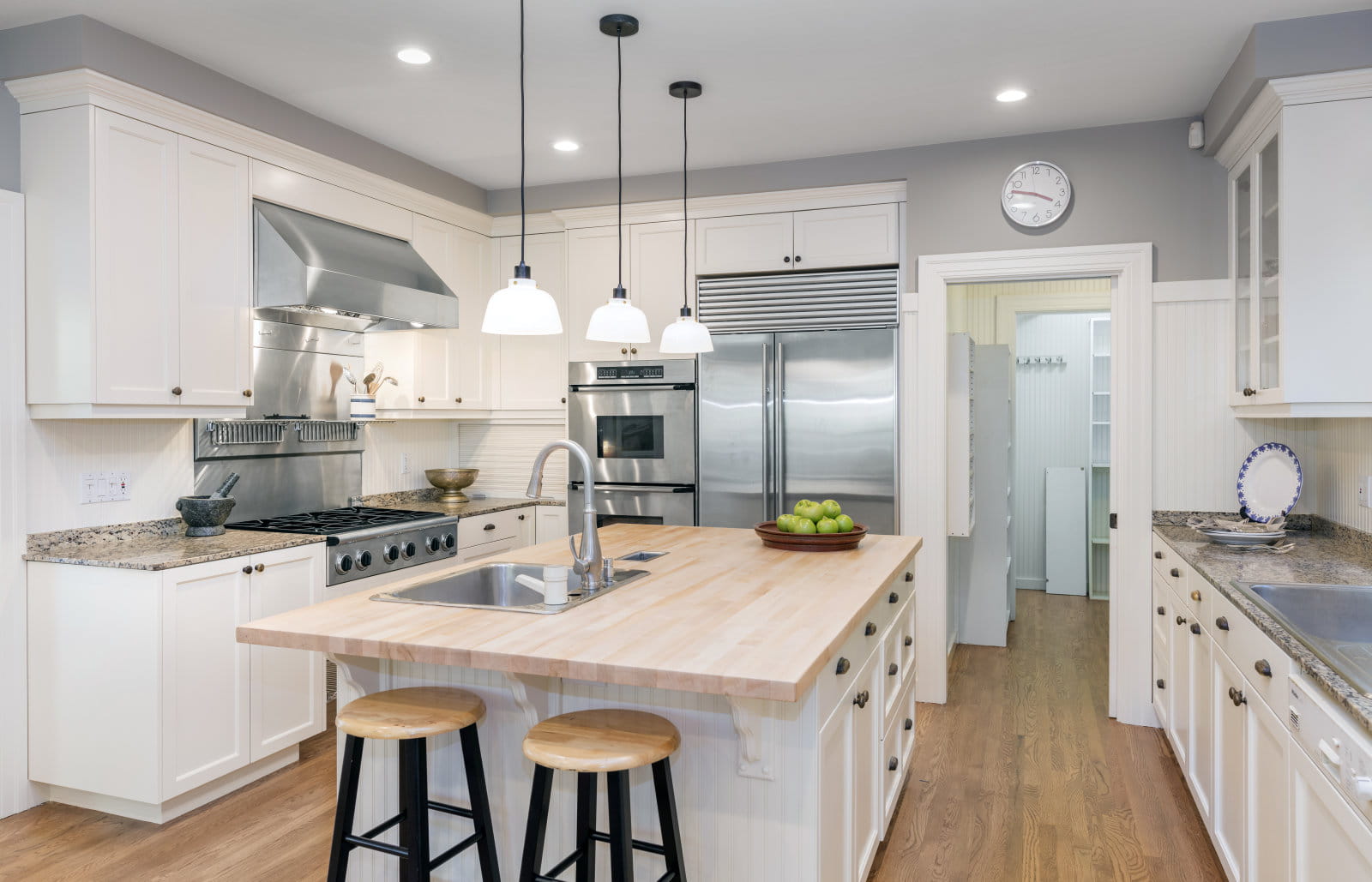 25 Years of Kitchen and Cabinet Innovation
Meet the BKC Kitchen Design and Installation Team
BKC of Westfield
A History of Innovation and Artistry
In 1996, Mila Grecco Dietze founded BKC of Westfield to fulfill her ambition of enhancing homes and commercial offices with beautifully designed and exceptionally functional rooms that contain affordable, high-quality built-in cabinetry. Mila was quickly recognized by local homeowners for her insightful designs and unfaltering commitment to quality. BKC became the benchmark in the Westfield, NJ area for high-quality kitchens, bathrooms, and customizable cabinetry.
Following Mila's passing in 1998, BKC has continued to expand under the thoughtful guidance of her husband Bill Dietze, the meticulous workmanship of her brother-in-law, Rob Dietze, and the artful visions of a highly talented team of professional designers and cabinetry installers. At BKC, we're continually mindful of Mila's original goals, and we strive to honor her legacy of innovation and artistry with every project.
The Professional Design and Cabinetry Installation Company
Meet the BKC Team
At BKC, our team of skilled and educated professional designers and cabinetry installers integrate functional design with high-quality cabinetry and precise installation to enhance our clients' homes and support their lifestyles. Our large selection of high-quality custom, semi-custom and standard cabinetry lines are manufactured by reputable companies and are available at price points to fit your budget. We create beautiful, unique and functional kitchens, bathrooms, laundry rooms, family rooms, mudrooms, home and commercial offices, and more by leveraging our sophisticated design skills, specialized knowledge, and stylish built-in cabinetry. By working together, our designers and installers provide every client with exceptional customer service, creating the most functional rooms that fit their budgets and delivering issue-free cabinetry installations.
William B. Dietze, Co-Owner / Manager
Bill transitioned from a 20-year career at CitiBank into full-time management of BKC, where he devoted himself to supporting the growth of the business. Bill enjoys working at BKC, where the finished product receives consistently enthusiastic responses from our clients.
---
Robert C. Dietze, Co-Owner / Designer / Installer
As a talented kitchen designer and fine cabinetry installer with years of experience as a building contractor, Rob brings extraordinary insight and artistry to a critical stage of each project. Rob's keen eye for details and perfectionist sensibility enhance BKC's kitchen renovation and cabinetry installation process greatly. As co-owner of BKC, Rob has guided the considerable growth and outstanding reputation of our business.
---
Julie Farrel, Designer
Julie brings over 30 years of space planning and design experience to every remodeling project. She integrates her deep knowledge of architectural elements, construction, building, space planning, and bathroom and kitchen remodeling and her lifetime passion for creating beautiful, optimized environments to bring balance to her clients' busy lives. After graduating from the Colorado Institute of Art in Denver, CO with degrees in Interior Design and Architectural Drafting, Julie began her career in Ithaca, NY with the first Wood-Mode dealer. She continued to gain experience at another Wood-Mode dealer in Grand Rapids, MI before joining the team at BKC of Westfield in 2003. Several of Julie's designs have been featured in local publications.
---
Donna Lombardi, Designer
Donna leverages over 24 years of experience in residential and commercial Architectural Design to perform insightful space planning and skillfully develop complex design solutions from conception through completion. In addition to creating gorgeous, optimized spaces for her BKC clients, Donna has been sharing her considerable knowledge with interior design students as a professor at Kean University for more than 12 years. After completing her undergraduate degree at Kean University, Donna began her career as an Art Production Director for Print Advertising, serving major NYC clients like Ralph Lauren Home. Donna earned her post graduate degree in Architectural Interior Design at New York School of Interior Design. Certified in the U.S. and Canada by the National Council for Interior Design Qualification (NCIDQ), Donna has demonstrated her proficiency in all aspects of interior design, including life safety & ADA codes, sustainability guidelines, FF&E selections/specifications, construction documents, and contract administration.
Call to Schedule an Appointment
Call (908) 789-1828 or email to arrange a meeting with our professional kitchen designers to discuss your kitchen renovation options. In our showroom, you can examine the features of our high-quality cabinets, view our cabinetry displays, and learn how built-in cabinets can maximize your space's functionality.